> Back
Sarah O'Connor is in the spotlight with Oxygen Magazine!  Named among the 'Women who embody the female fitness phenomenon!', Sarah share's her motivation and insights in the Oxygen Magazine Spotlight Profile for December 2016.
Sarah believes that wellness is vital – she talks this in her business and walks it in her own life!
There is something special about being ready physically and mentally to do anything that you set your heart on, whether it's giving your best in sport, being part of your family, working and advancing your career, contributing to the community, enjoying recreation time or travel, or competing on stage.
Sarah says:
Setting goals and meeting them is part of me, something I love…
and, Sarah is all about helping others meet their goals…
The most rewarding aspect of training is inspiring so many women of all ages and walks of life…

I love that I can show that females can start their health and fitness journey later in life, achieve good health and get the body that they have always wanted
> Back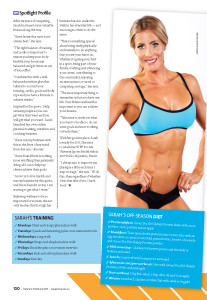 > Back
Whatever your age, gender or fitness goals, take action now:
or contact Sarah now!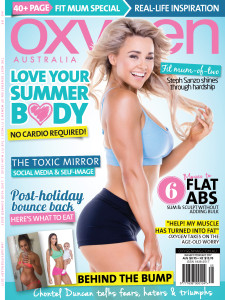 > Back
You can follow Oxygen Magazine on their website, on Facebook, via Twitter (@oxygenmagau) or on Instagram (@oxygenmagau)